The above is an image of what the redevelopment of the station could end up looking like, as featured on The Northern Echo.
Included in this development are three new platforms being built, a new station building, a foot bridge to connect the newly built platforms to the existing building an upgrade to the entranceway and car park, new pick up and drop off points, as well as new road layouts, with wider pavements and some improvements to walking and cycling access. The Tees Valley Combined Authority have also given the project £25m.
The project is hoped to be finished by December 2024.
Find out more here: Consultation underway on £100m redevelopment of Darlington Station | The Northern Echo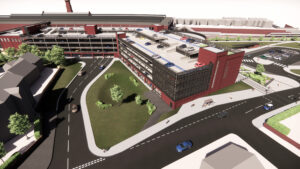 Images courtesy of Napper Architects.