Morrison Busty Low Carbon Depot
client Durham County Council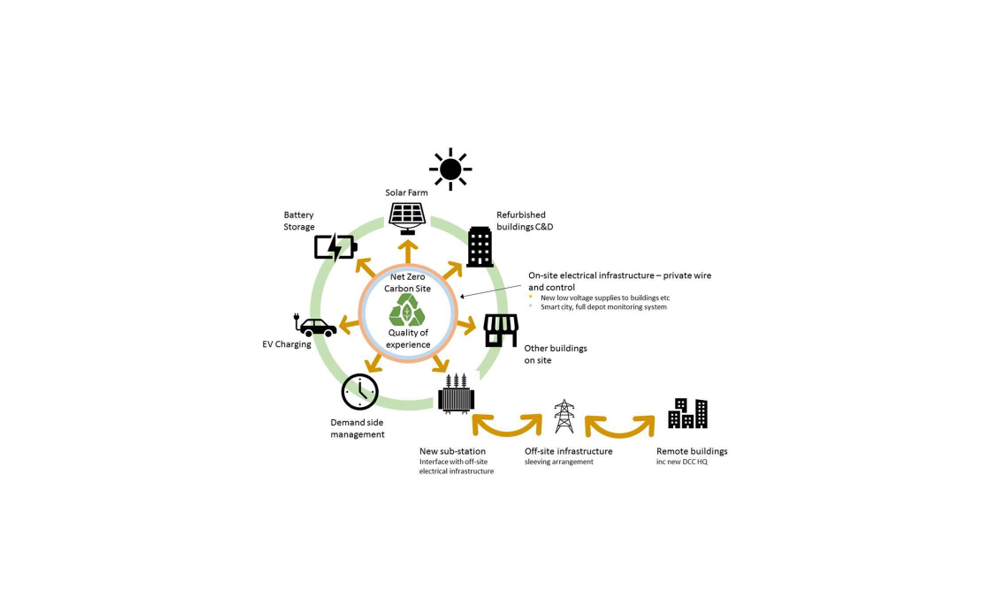 Work has commenced at Morrison Busty Depot to become a low carbon site with a large-scale solar farm, battery storage facility, private wire distribution network and an extensive electric vehicle charging system installed to serve the depot.
Project Summary
The system also includes a connection to the local supply grid for the export of excess generated electricity to the grid. The new systems are monitored and controlled by a Smart City system to ensure optimal operation of the PV, battery storage and electric vehicle charging systems and the monitoring and recording of system performance data.
The depot started life as the Morrison Busty Colliery in the 1920s, reaching peak production in 1948 before closing in 1973.
The depot will become a low carbon site thanks to an £8.3 million scheme which will see the above service and systems installed.
Works on this project includes a three megawatt peak solar farm and battery storage system to power the depot, the impact of which will reduce the depots overall carbon emissions.
Two of the sites main buildings gas fired heating systems are being replaced with air source heat pumps, and lighting replaced with energy efficient LED lighting and automatic controls.
The electric vehicle charge system will be in place to allow DCC to transition from diesel powered to all electric powered vehicles across their whole fleet including the large fleet of refuse collection and road salting and snow clearance vehicles.
Several depot buildings will be made more energy efficient by a thermal upgrade.
From a Historical point of view, there will be restoration of Bevin buildings which have connections to County Durham's mining history as well as the construction of a new vehicle workshop facility.
Overall, the project will result in the depot being Net Zero Carbon in operational energy reduce Durham County Councils overall operational carbon emissions by four per cent.
This project is due for completion in the third quarter 2022.
2
Gas fired heating systems replaced
3
Megawatt peak solar farm
Services
Energy efficient LED lighting
Several depot buildings will be made more energy efficient by a thermal upgrade.