The British Museum – Islamic Galleries, Crawford Stair and White Wing
category Arts and Culture, Historic Buildings, Museums and Galleries
client The British Museum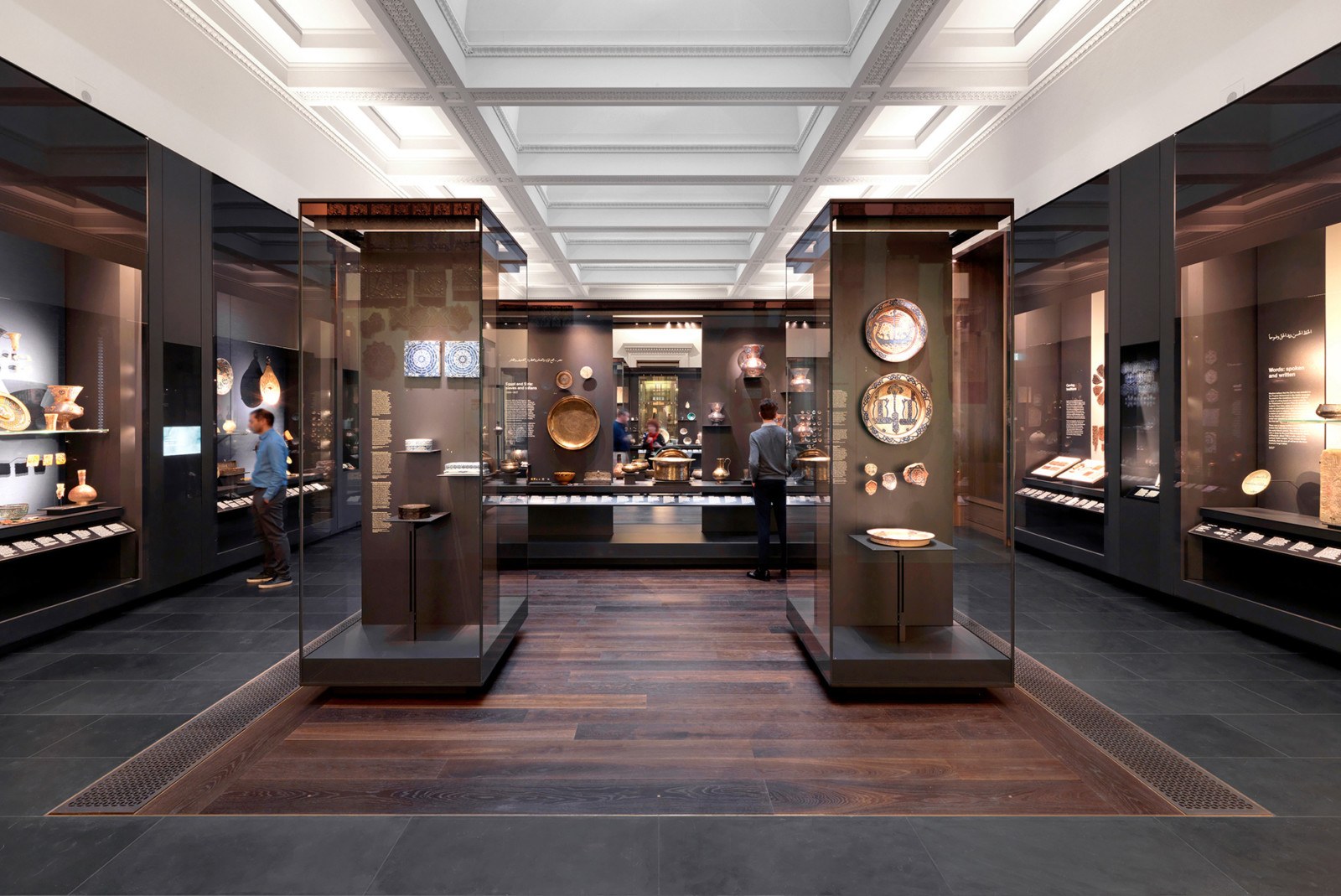 TGA were engaged in 2015 by the British Museum as part of a design team led by HOK architects to undertake the phased refurbishment of the entire White Wing. 
Project Summary
There were multiple phases which consisted of:
Construction of the new Crawford Stair, built within the White Wing lightwell to provide a fire escape from the upper gallery levels, a fire fighting lift and a major new M&E services riser.
Refurbishment of Galleries 42..45 on the upper level of the White Wing to form the new Albukhary Foundation Islamic Galleries.
Refurbishment of the remainder of the White Wing on the floors below the new public galleries.
The project also included the construction of the new Crawford Stair within an existing lightwell to provide a new escape stair, a fire fighting lift and a major services riser.
Phases 1 and 2 were completed in 2018, whilst phase 3 is shortly due to start on site.
All phases of the project have been characterised by the requirement to deliver stringent environmental control standards whilst minimising the impact of the aesthetic qualities of the spaces involved with access to minimal plant space.
As such they have required painstaking coordination between the historic building fabric, newly inserted structure and the new building engineering services.  TGA worked closely with HOK to fully coordinate our proposals in a 3D Revit environment allowing their impact to be minimised, both with the new Crawford Stair and within the extremely congested floor void of the Islamic Galleries.  Phase 3 of the project is being delivered in a Level 2 BIM environment.
The Museum's commitment to reducing its CO2 emissions was a significant factor in the development of the new galleries and the wider services infrastructure which supports them.
A fabric first approach was adopted along with methodologies which sought exploit the intrinsic qualities of the building with 1m thick historic walls offering significant thermal mass, and a form which offers opportunities for natural ventilation.
Newly inserted timber sash windows and new roof lanterns incorporate electrically driven actuators controlled via a central BMS linked panel to encourage natural ventilation within the galleries meeting requirements for respiratory health. The gallery design takes advantage of a "stack effect" ventilation strategy where a combination of air drawn through the large door portals from elsewhere in the museum and the new sash windows at low level allow incoming air into the spaces, encouraged by the opening lights in the high-level rooflights.
Heating is provided via underfloor trenches enabling a silent, low energy solution which is appropriate for occupant comfort given the large ceiling heights and volumes of the galleries and also separates heat sources from display cases containing sensitive artefacts.
All lighting within the Galleries utilise high efficacy LED light sources and is controlled by a central lighting control panel.  All lighting is automatically switched according to opening hours and energy use is minimised.
Services
High efficacy LED light sources
Newly inserted timber sash windows
Stringent environmental control standards
"Stack effect" ventilation strategy