TGA enjoyed a fantastic morning at Affinity Water's offices on Thursday 26th September with the Herts Chamber of Commerce and Herts/Beds Constructing Excellence. There was a good turn out with around 40 in attendance.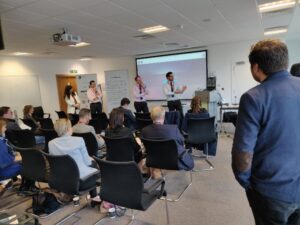 The event opened with the Herts Chamber introducing Affinity Water as the host and this was quickly followed by the main event – TGA showcasing BIM and REVIT, what it is, how it works and why TGA are leading the way with their expertise in developing the whole package for clients, constructors and end users.
Local Director, Stephen Olley (based in Stevenage) introduced TGA and provided an overview of who we are and what we do, touching on TGA's beginnings in Durham in 1962 and establishing the Hertfordshire Office over 25 years ago.
Jason Jobes, TGA's BIM lead and Director, provided the main presentation, with Luke Collins, Senior Revit Technician, providing a more focused 'hands-on' demonstration including a walkthrough and VR demo.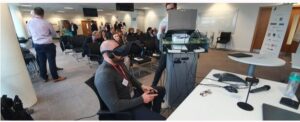 The main presentation centred around using BIM as an opportunity, and how TGA had embraced BIM to now be able to offer a greater level of service to a wider range of potential clients. This has enabled growth in the sector and reinforced TGA as a dynamic consultancy able to react and develop to suit market trends and changes.
The presentation included an excellent Q&A session, with lots of great questions and answers.