TGA are in the final phase of works on an open loop GSHP / Borehole scheme we are currently delivering for our client at Raby Castle.
This is an excellent but challenging project, with a lot of feasibilty and site wide energy analysis which helped determine the appropriate integration of heat pumps into a site wide heating network solution to deliver thermal energy for multiple buildings on the estate.
Working alongside specialist drilling company GSS Lee Hormell, the first stage of works will deliver 200kW of GSHP sustainable, low carbon energy, with the opportunity to add further modules at a later date, the start of the clients Net Zero journey!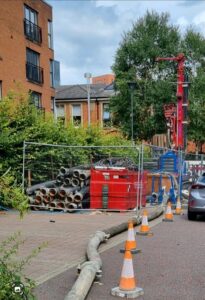 As well as this, TGA recently had the pleasure of witnessing the test pumping phase of an open loop borehole/GSHP scheme we are currently delivering for our client in Salford.
Months worth of feasibilty and design work alongside specialist drilling company, GSS Lee Hormell, will hopefully help the client see the start of their net zero journey.
The above are just some of the open/closed loop GSHP schemes TGA are currently providing our clients with who have sustainable low/zero carbon building services designs.