category Commercial Developments
client Dermal Laboratories Limited
location Kempston, Bedfordshire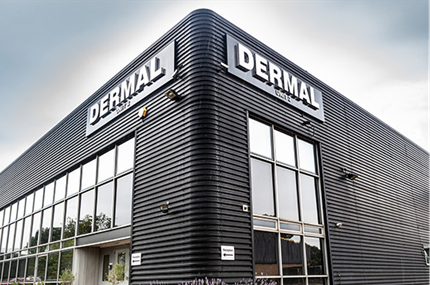 TGA's duties included feasibility study, full services design, liaising with design team, arranging for quotations and details from statutory utility companies, site inspections during construction stage, attending design and site meetings, producing site progress reports and attending witnessing of services operations.
Project Summary
Works also included for site inspection and production of outstanding works/defects lists at the end of the project and review and commenting on contractor's operating and maintenance manuals and as installed drawings. TGA also assisted the Quantity Surveyor regarding reviewing the contractor's final account.
The design of the building was aimed to balance the competing demands of function, comfort and energy use by utilising effective and efficient systems.
The building is predominantly mechanically ventilated with supply and extract heat recovery type ventilation equipment in the office areas. The laboratory areas are each provided with variable air volume fume cupboards for extract with supply air provided from a dedicated air handling unit to a positively pressurised lobby and also into the rooms to create negative pressure within the laboratories. This is achieved by utilising various motorised dampers within the ductwork and speed control on the supply air handling unit. One of the laboratories is also provided with a stand-alone dust extract system for occasional use by laboratory personnel.
The toilet areas and kitchenette are provided with individual extract ventilation using small extract fans activated by PIR occupancy sensors for energy conservation. The utility room is provided with independent extract ventilation which operates during occupied hours but can be activated at night by a humidistat depending on room conditions. The chemical solvent store is provided with permanent high and low level extract ventilation by a ducted ATEX explosion proof extract fan. Ventilation systems are controlled and/or monitored from the control panel.
Efficient VRF (Variable Refrigerant Flow) air source heat recovery systems have been installed to meet the heating and cooling requirements for the laboratories and office areas. The offices are provided with 4 way blow cassette air conditioning units. Ducted type units with supply and return air grilles are located within the laboratory areas. Each space is provided with local temperature control. Condensing units are located on the flat roof area over first floor.
Corridors, toilets, kitchenette and ancillary spaces are provided with heating medium by decorative electrical panel type heaters with local controls.
Category 5 domestic water service is provided from a packaged cold water tank and booster set to all laboratory spaces and utility room outlets. Water service for toilets, kitchenette and ancillary areas are provided directly from the mains water service. Domestic hot water is provided by local storage type point of use electric water heaters.
Although this building is provided with heating, ventilation, comfort cooling, boosted domestic water services and water heating as well as lighting and general power by electric means only it is still fully complies with Part L requirements due to energy saving inverter driven technology, heat recovery ventilation and air conditioning systems, efficient lighting and controls.